FedEx Ground Request for Information | Custom Written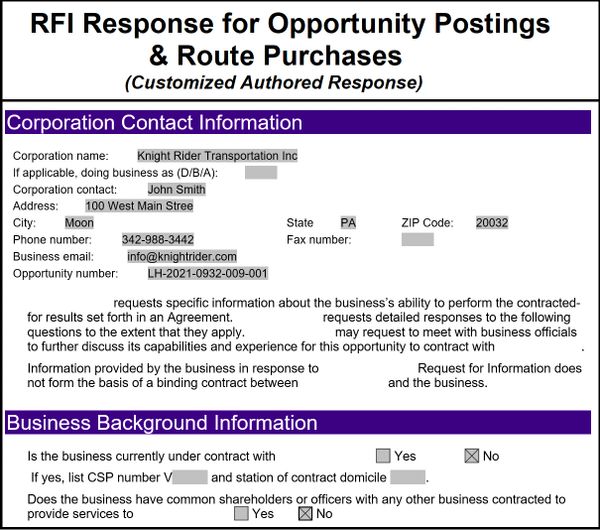 FedEx Ground Request for Information | Custom Written
Customized FedEx RFIs for Opportunity Postings or FedEx Route / Linehaul Purchases

MyGround® Support has authored hundreds of RFI responses over the years.  We are the #1 provider of RFIs to current and aspiring FedEx Contractors. We constantly receive feedback that our RFI service helped get an award of a Buildagroundbiz opportunity or successful purchase approval.  FedEx Ground literature states parties may work with a third party, such as a business advisor to complete its RFI Response.

This product provides you a RFI response authored by MyGround® Support that is customized to your background, the opportunity, and many other aspects for FedEx Route / Linehaul Opportunities (Buildagroundbiz posts) or private sale purchases in either the US or Canada. MyGround® Support will work with you to quickly and efficiently get everything needed to support the response and then leave it to us. We will email you at the email address specified during check out within 4 business hours of your order to setup a brief call to review items related to the RFI. 
For an opportunity posting, we will discuss our approach to areas/questions of FedEx Ground's RFI response form.  This includes the 5 questions in Safety Commitment & Experience, the 2 questions in Customer Service Approach, and the 2 questions in Resources & Capacity. For route purchase RFIs, we will discuss several attributes as we assist in authoring your RFI as well.  We also know you need the RFI fast!!, 1-2 day turnaround is typically provided for the customized response.
Please note: No services beyond the RFI are provided via this product.  We do not provide any coaching on a potential FedEx interview nor provide operational advisement on your route/linehaul opportunity.

If you are not interested in a customized RFI response and are just seeking an opportunity RFI response sample please visit our Sample RFI product (sample is for US opportunities only).

PLEASE CALL US (240-490-2895) WITH ANY QUESTIONS AND WE ARE HAPPY TO DISCUSS BEFORE YOUR PURCHASE
Reviews