Linehaul Run Buyer Seminar - Next Session 4Q 2019 TBD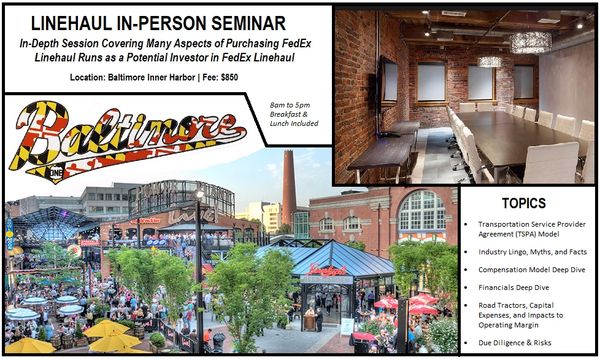 Linehaul Run Buyer Seminar - Next Session 4Q 2019 TBD
Thinking of Buying FedEx Linehaul Runs? - Attend a Buyer Seminar to Learn Critical Aspects from a Highly Regarded Industry Expert

Location: Power Plant District, Baltimore Inner Harbor, Baltimore, MD | Casual Attire

Date: Announcing Soon (4Q 2019) - To be put on info list for next session email info@mygroundsupport.com

Maximum Number of Attendees: 18
Seminar Fee: $850 (Breakfast, Lunch, & Snacks included)

This 8 hour in-person seminar provides a comprehensive in-depth look at FedEx Ground Linehaul from an investor perspective.  It is presented by a Linehaul Subject Matter Expert who is a highly regarded consultant in the industry and holds extensive experience and knowledge in Linehaul including personal ownership.  No sales pitches, no marketing or high level"fluff", and we won't try to sell you any routes.  This is an intense seminar at a very detailed level. Numerous materials will be provided at the seminar as well.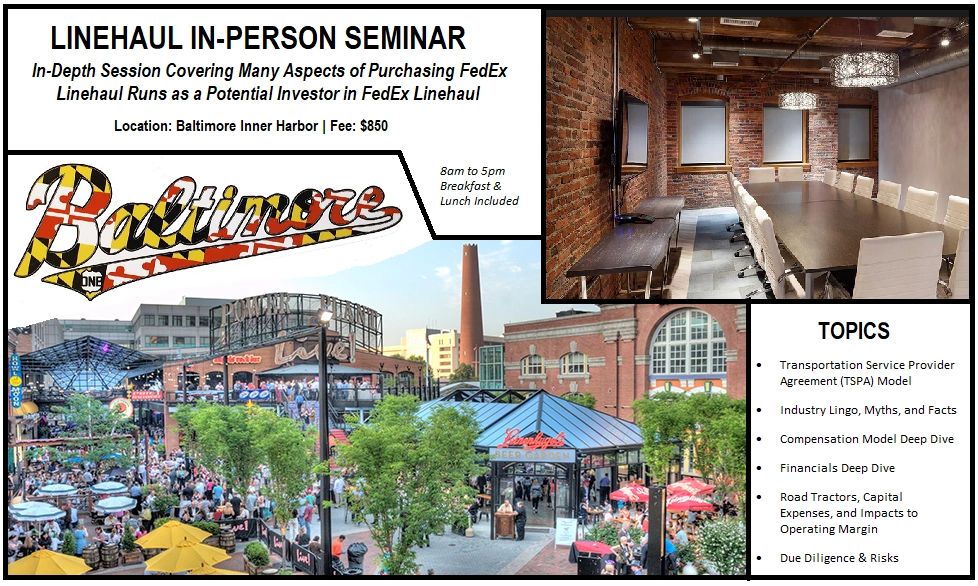 Agenda & Topics:
8:00am to 8:30am – Light Breakfast (Seminar Provided)
8:30am to 9:00am – Introduction & Agenda

9:00am to 10:30am – Linehaul Transportation Service Provider Agreement (TSPA) Model
Industry Lingo, Myths, and Facts
Run Assignment
Critical Contractual Aspects
10:30am to 10:45am – Break
10:45am to 12:00pm – Compensation Model Deep Dive – FedEx Ground Linehaul Compensation Calculation
Variable Mileage Settlement Calculation and Legs
Fuel Indexed Revenue
12:00pm to 12:15pm – Break (Grab Seminar Provided Lunch)
12:15pm to 1:00pm – Working Lunch Open Q&A on morning topics
1:00pm to 2:30pm - Financials Deep Dive
Comprehensive Expense Analysis
What to ask for/analyze in Financial Due Diligence

Considerations for a Purchase Price including Equipment FMV

2:30pm to 2:45pm – Break (Snacks Provided)
2:45pm to 3:30pm – Road Tractors, Capital Expenses, and Impacts to Operating Margin
3:30pm to 4:00pm - Semi-Absentee Ownership? - Management
4:00pm to 4:45pm – Operational Due Diligence / Items to be on lookout for
4:45pm to 5pm – End of Day Wrap Up
Travel Information:  The Power Plant District within Baltimore's historic Inner Harbor is easily accessed off I-95 by car.  For anyone flying in by air, the closest airport is BWI airport. This airport has light rail service to the Inner Harbor or you can drive.  Both methods of travel are approximately 30 minutes.  Traveling by light rail from the airport will require a short walk to the seminar location from the rail stop.

Parking: Harbor Park Garage, 55 Market Pl, Baltimore, MD 21202 |

Nearby Hotels:
PLEASE EMAIL US AT INFO@MYGROUNDSUPPORT.COM OR CALL US (240-490-2895) WITH ANY QUESTIONS AND WE ARE HAPPY TO DISCUSS BEFORE YOU REGISTER. 
Registration and Cancellation Policy:  MyGround Support LLC reserves the option to cancel and/or reschedule the seminar in the event minimum registration levels are not met. In the event the seminar is cancelled and/or rescheduled by MyGround Support LLC a full refund of any registration fees paid by the registered attendee will occur within 2 business days of the cancellation or reschedule.  If a registered attendee cancels registration to a scheduled seminar, half of the registration fees paid will be refunded if cancelled more than 5 business days in advance of the seminar date.  No refunds will be provided if the registered attendee cancels registration within 5 business days of the seminar date.

Reviews