MyGround® Sales - $2,000 Flat Fee for Sellers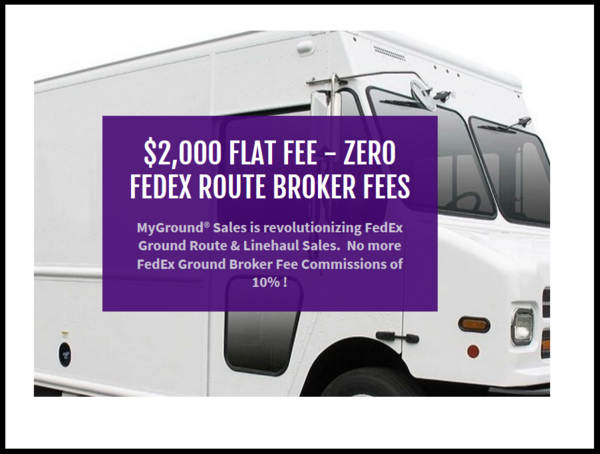 MyGround® Sales - $2,000 Flat Fee for Sellers
MyGround® Sales specializes in supporting the sale of FedEx Ground Routes and Linehaul Runs in today's world where high sales commissions should be thing of the past and low flat fees are the future. We are revolutionizing the FedEx Ground Route and Linehaul Run sale industry just like Redfin, Zillow, and other Limited Service Brokers have in the Real Estate industry.
We hold one of the best and most elite reputations in the industry. If you are looking for sales support of your FedEx Ground Routes or Linehaul Runs for just a flat fee of $2,000 rather than tens of thousands of dollars in commissions contact MyGround® Sales today to list your FedEx Ground Routes or Linehaul Runs.
Visit MyGround® Sales to learn about the listing service
Steps to List FedEx Ground Routes or LInehaul Runs for Sale for Flat $2,000 Fee

Step 1: Download the Service Agreement
Step 2: Read & Initial each page of the Service Agreement, Sign/Date on Page 3, and Complete Appendix A on Page 4
Step 3: Once completed, email the entire Service Agreement to contact@mygroundsales.com
Step 4: Please make payment using the "Add to Cart" button on this page
Step 5: Approve Listing Ad that will be emailed to you after completing Steps 1-4.
Upon completion of all steps your services begin and your FedEx Ground Routes or Linehaul Runs will be listed on BizBuySell and Bizquest and the sales process will begin.
If you have any questions email contact@mygroundsales.com or call 240-490-2895