FedEx Route Sales - $2,000 Flat Fee for Sellers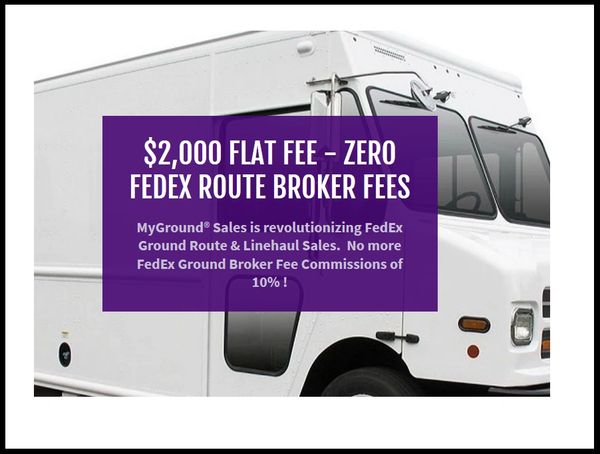 FedEx Route Sales - $2,000 Flat Fee for Sellers
Ready to sell your FedEx Routes or Runs for just $2,000?


MyGround® Support specializes in supporting the sale of FedEx Ground Routes and Linehaul Runs in today's world where sales commissions are a thing of the past.


We are revolutionizing the FedEx Ground Route and Linehaul Run sale industry just like Redfin, Zillow, and other Limited Service Brokers have in the Real Estate industry.  


If you want to skip the traditional FedEx Route Broker services and are looking for sales support of your FedEx Ground Routes or Linehaul Runs for just a flat fee of $2,000 rather than tens of thousands of dollars in commissions contact MyGround® Support today to list your FedEx Ground Routes or Linehaul Runs.



In exchange for the $2,000 flat fee, the following services are provided:
6 Months of Listing Service on National Business for Sale Sites.

We post your FedEx Routes for sale or Linehaul Runs for sale on national business for sale sites such as BizBuySell and Bizquest.

Initial Buyer Contact - Keeping You Confidential

.

All potential buyers initially contact MyGround® Support. You don't have time for tire kickers and non-qualified buyers wasting your time. We receive all initial inquires for your sale keeping your identity confidential in this initial contact and we attempt to obtain a NDA from the Buyer.

Potential Buyer Forwarding

.

When MyGround® Support obtains a contact from a Potential Buyer along with a NDA, we forward the Potential Buyer's information and NDA on to you.
You as the Seller can then work with the Potential Buyer to negotiate a deal, provide Buyer due diligence items, and any other activities. This limited listing service provides no other services other than Potential Buyer forwarding.
After the deal closes, you just saved yourself what is likely to be tens of thousands of dollars of fees you would have otherwise incurred with a commission fees on your sales price.
---
Steps to List FedEx Ground Routes or Linehaul Runs for Sale for Flat $2,000 Fee




Step 2:
Read & Initial each page of the Service Agreement, Sign/Date on Page 3, and Complete Appendix A on Page 4




Step 4:

Please make payment using the "Add to Cart" button on this page


Step 5:

Approve Listing Ad that will be emailed to you after completing Steps 1-4.


Upon completion of all steps your services begin and your FedEx Ground Routes or Linehaul Runs will be listed on BizBuySell and Bizquest and the sales process will begin.




If you are more interested in a traditional listing service rather than limited service please visit 

MyGround® Sales
or call 240-490-2895
Reviews