FedEx RFI for ISP Agreement Negotiations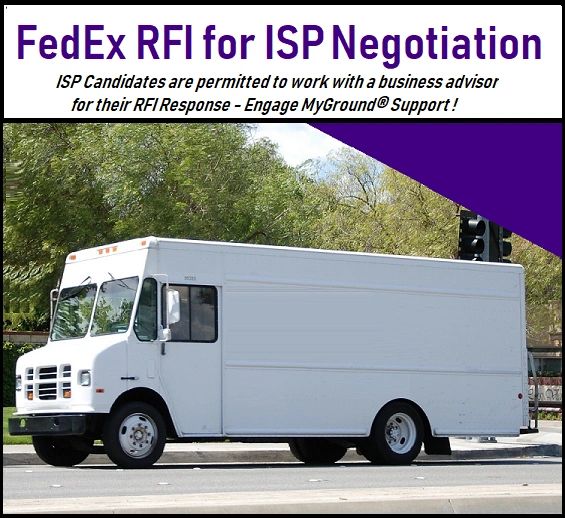 FedEx RFI for ISP Agreement Negotiations
FedEx RFIs to Enter ISP Negotiations (Current FedEx P&D Contractors)

MyGround® Support has authored hundreds of FedEx RFI responses over the years including ISP Negotiation RFIs required to enter ISP Negotiations or Re-negotiations.  We are the #1 provider of FedEx RFIs to FedEx Contractors. FedEx Ground's ISP transition workbooks clearly state an ISP Candidate may work with a third party, such as a legal or business advisor, to complete its RFI Response.  As an experienced FedEx contractor business advisor, MyGround® Support is ready to help craft your RFI response and we know the topic areas FedEx Ground will evaluate well.

This products provides you a RFI response authored by MyGround® Support that is tailored to the FedEx RFI requirements for ISP Agreement Negotiation. MyGround® Support  will work with you to quickly and efficiently get everything needed to support the response and then leave it to us. We will email you at the email address specified during check out within 2 business hours of your order to setup a brief call to review items related to the RFI.  We also know you need it fast!!, we know you cannot advance to ISP Agreement negotiations until the RFI process is complete.

PLEASE CALL US (240-490-2895) WITH ANY QUESTIONS AND WE ARE HAPPY TO DISCUSS BEFORE YOUR PURCHASE
If you are looking for a Growth Opportunity RFI, please click here.

Reviews