FedEx Ground Request for Information | Sample Content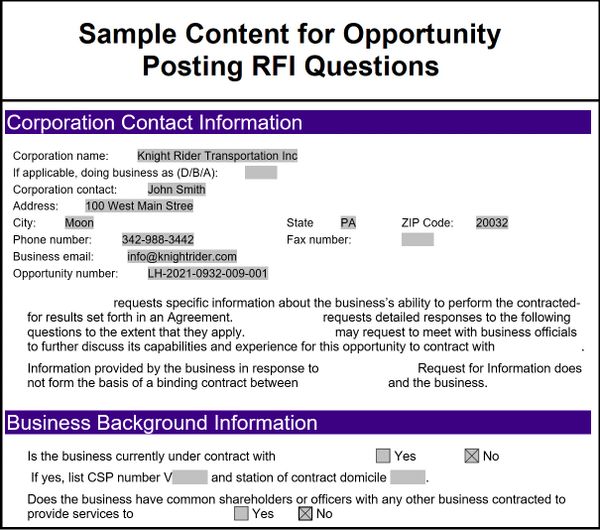 FedEx Ground Request for Information | Sample Content
FedEx RFIs for Opportunity Postings - Sample Content

Knowing what to include in your FedEx RFI for FedEx Route / Linehaul Opportunities posted on Buildagroundbiz is sometimes challenging.  MyGround® Support can help in your FedEx Ground Request For Information (RFI) response with sample question response content. We are the #1 provider of RFIs to current and aspiring FedEx Contractors.

This product provides you sample responses by topic area/question of FedEx Ground's RFI response form in a generic MS Word File.  This includes the 5 questions in Safety Commitment & Experience, the 2 Questions in Customer Service Approach, and the 2 questions in Resources & Capacity.  You can leverage the sample response as you author your RFI response.  The content will be emailed to you at the email address specified during check out within 4 business hours of your order (content provided by a MS Word file). 
Please note that no services beyond the sample content are provided.   Under the sample RFI we do not assist in writing, do not review your response, do not provide any coaching, nor provide any other assistance other than the sample content in a generic MS Word document.

If you are looking for a customized RFI response authored by MyGround® Support that is customized and tailored for your opportunity or situation please visit our Customized RFI Response product.
PLEASE CALL US (240-490-2895) WITH ANY QUESTIONS AND WE ARE HAPPY TO DISCUSS BEFORE YOUR PURCHASE
Reviews