Educate the FedEx Route / Linehaul Run Buyer Session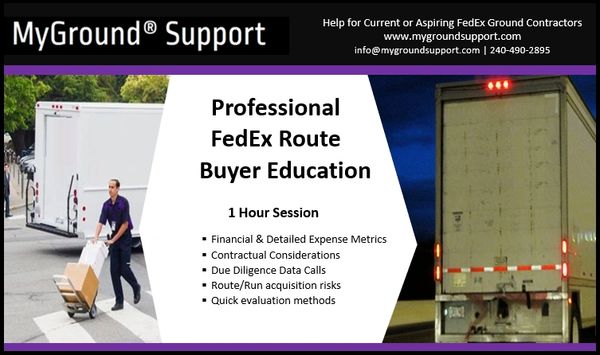 Educate the FedEx Route / Linehaul Run Buyer Session
Thinking of Buying FedEx Routes or Linehaul Runs? - Get Detailed Financial Metrics By Expense Line Item & Other Critical Information

This 1 hour consult provides the knowledge and information to be an informed Buyer of FedEx Routes or Linehaul Runs from an investor perspective.  Many components of FedEx Routes and Linehaul Runs are deceivingly more complex then even the savviest business entrepreneur may think to consider. This consult also helps many prospective FedEx Route buyers determine if routes are a good fit for them.
Important non-financial and financial considerations are covered by MyGround® Support's staff that are former FedEx Ground contracting investors, top school MBA graduates, and recognized experts on FedEx Ground route matters. We perform bookkeeping & payroll services for numerous FedEx Contractors, we know the financials better than anyone else. Handouts and materials provided include detailed financial metrics, in-depth due diligence support checklists, and other key items.
If you are developing your own evaluation model for due diligence or need to verify information received from the Seller this should be considered a "must consult". If you don't use us, please use someone!
Topics Covered & Handouts Provided:
Financial & Detailed Expense Metrics

Contractual Considerations
Detailed Non-Financial and Financial Due Diligence Data Calls
Route/Run acquisition risks & things to watch out for
Quick evaluation methods to determine if a potential route acquisition is worth diving deeper into

We will contact you within 4 business hours to schedule your one hour consult and distribute supporting materials referenced in the session. 
PLEASE CALL US (240-490-2895) WITH ANY QUESTIONS AND WE ARE HAPPY TO DISCUSS BEFORE YOUR PURCHASE
Reviews