MyGround® Support - The Unbiased FedEx Route Consultant
MyGround® Support specializes in providing services to current and aspiring FedEx Ground Contractors including specializations for FedEx Route Buyers and those in need of a RFI Response. Since 2014, we've been sought out as one of the most experienced, unbiased, and "top shelf" advisors in the industry with over 12,000 website visitors since inception. We're the #1 provider of RFI responses and have analyzed hundreds of Routes and Linehaul Runs for Buyers.

Our Services include, but are not limited to:
If you're buying routes/linehaul we cannot stress how important it is to engage a highly skilled

unbiased

consultant.

According to SBA statistics only 55.66% of SBA loans in the Trucking (Local) business are repaid, it is a high risk business! Engaging a Consultant such as
MyGround® Support

that has analyzed hundreds of routes/linehaul is critical to understand the complexities, contractual aspects, and financials. Discounted Cash Flow (DCF) Valuation, Return on Capital (ROC), and Capital Impacts (CAPEX) are critical items to consider.

MyGround® Support's 

staff aren't "Route Guys" that do consulting on the side attempting to create buyer pools and interest in FedEx Routes they also sell, but Fortune 100 Experienced Consultants with significant expertise and knowledge in FedEx Routes/Linehaul including personal ownership. 

Our skills and experience are unparalleled to

 others.

Our principles and values include:
Be Impartial & Unbiased:

We don't "sell" great or bad things about FedEx routes and linehaul to you, just unbiased information you can use in making your own decision.  We won't try to steer you to certain routes for sale or try to create interest or buyer pools for routes for sale like some others do.

Use Sound Data:

We use industry data such as Price Digests for fair market value of vehicles and true financial metrics.  No thumbs in the air.


Focus on What Counts:

We focus on true financial metrics including Discounted Cash Flow (DCF) Valuation, Return on Capital (ROC), and Capital Impacts (CAPEX) along with our extensive non-financial knowledge of FedEx Routes/Linehaul. Owner's Cash Flow and EBITDA mean nothing without a focus on the financial metrics that count and the contractual/ operational aspects.  We are the only advisor in the industry that calculates free cash flow properly with CAPEX impacts.
MyGround® Support can be reached at

240-490-2895

or

info@mygroundsupport.com

for questions regarding our services. In lieu of our listed services, consults can be scheduled via

Clarity Call

as well.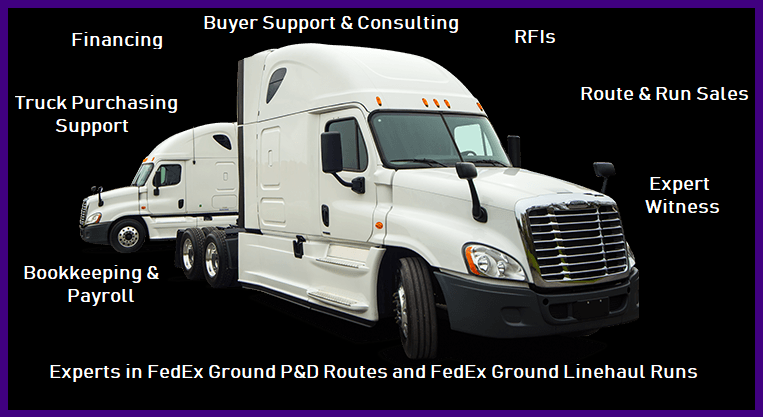 ---
MyGround® is a registered trademark of MyGround Support, LLC. MyGround Support, LLC is not endorsed by, sponsored by, is not associated with, and has no connection with Federal Express Corp and FedEx Ground.