MyGround® Support - The Unbiased FedEx Route Consultant
MyGround® Support has specialized in providing services to current and aspiring FedEx Ground Contractors including FedEx Route Buyers since 2014. We are sought out as one of the most experienced, unbiased, and "top shelf" advisors in the industry. Over 3,060 website visitors visited us in 2018 alone.

M

yGround® Support's due diligence staff have analyzed hundreds of FedEx routes and linehaul runs over the years.  Our principles and values include:
Be Impartial & Unbiased:

We don't "sell" great or bad things about FedEx routes and linehaul to you, just unbiased information you can use in making your own decision.


Use Sound Data:

We use industry data such as Price Digests for fair market value of vehicles and true financial metrics.  No thumbs in the air.


Focus on What Counts:

  We focus on true financial metrics that include CAPEX.  Owner's Cash Flow and EBITDA mean nothing without a focus on the financial metrics that count.
If you're buying routes/linehaul we cannot stress how important it is to engage a highly skilled unbiased consultant.

 

Engaging a Consultant such as
MyGround® Support

that has analyzed hundreds of routes/linehaul is critical to understand the complexities, contractual aspects, and financials. CAPEX, Return on Capital (ROC), and Cash-on-Cash are critical items to consider. We're 

highly skilled business consultants that are former FedEx Ground contractors, top school MBA graduates, and recognized experts on FedEx Routes and Linehaul.

M

yGround® Support's due diligence staff aren't "Route Guys" that do consulting on the side, but experienced business consultants with personal FedEx Ground contracted entity ownership

. Our skills and experience are unparalleled to

 others.
MyGround® Support can be reached at

240-490-2895

or

info@mygroundsupport.com

for questions regarding our services. In lieu of our listed services, consults can be scheduled via Clarity Call

as well.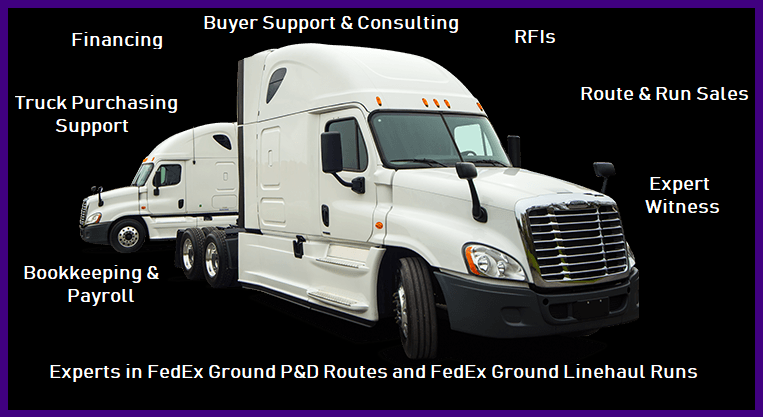 Our Services include, but are not limited to:
---
MyGround® is a registered trademark of MyGround Support, LLC. MyGround Support, LLC is not endorsed by, sponsored by, is not associated with, and has no connection with Federal Express Corp and FedEx Ground.