MyGround® Support - Elite FedEx Route Consultant
MyGround® Support specializes in providing services to current and aspiring FedEx Ground Contractors. We've been in business for years, are in high demand, and are sought out as one of the most elite advisors in the industry. 

We are the "secret" some hope you don't find!

MyGround® Support provides services to current contractors, buyers of routes, sellers of routes, parties in need of an expert witness, and aspiring contractors in need of RFI responses.  We've supported hundreds in buying routes, due diligence, RFI responses, and other related services.
MyGround® Support can be reached at

240-490-2895

or

info@mygroundsupport.com

to discuss how we can likely help you as an existing contractor or someone thinking of getting into the FedEx Route industry.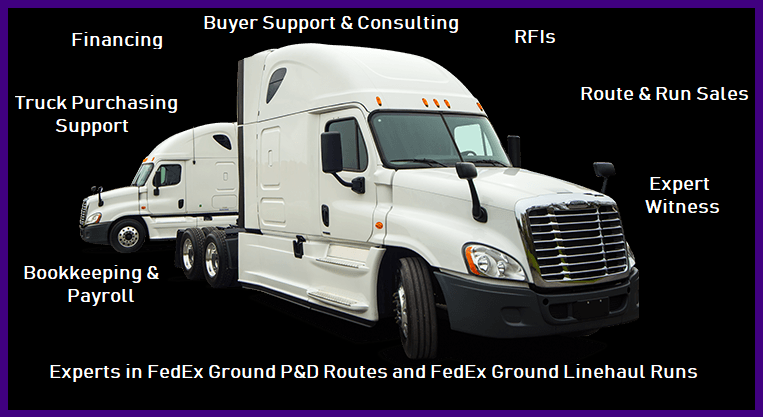 Our staff are former FedEx Ground contractors, top school MBA graduates, and Expert Witnesses on FedEx Ground route matters.  We consider ourselves very detail oriented, independent, objective, and leaps above the services other "route consultants" attempt to provide.

We're successful business entrepreneurs who've personally obtained SBA backed financing for "good routes".  One of our flagship services is FedEx Ground RFI responses, we've written hundreds of successful responses over the years.  We've also assisted many route buyers in route purchases and we've assisted route owners in selling their routes for significantly less of what others charge.

If you are buying routes we cannot stress how important it is to engage us or another advisor.

The Seller's Broker works for and is looking out for the Seller...not the Buyer.

Engaging a FedEx Route Consultant as a Buyer is critical to ascertain what the likely Operating Cash Flow and the Free Cash Flow  margins are as they are different for many routes and linehaul runs. Due diligence requires the Buyer to validate the Seller's numbers and information, don't do it without an expert!

Our Services include, but are not limited to:
Bookkeeping & Full Service Payroll for FedEx Contractors (contact us for more information)
---
MyGround® is a registered trademark of MyGround Support, LLC. MyGround Support, LLC is not endorsed by, sponsored by, is not associated with, and has no connection with Federal Express Corp and FedEx Ground.